Reiki
"Reiki" is a Very Powerful Energy Healing Modality!!
Reiki is a Japanese word,comprises of "Rei"(Universe) & "Ki"(Life Force Energy).
So Reiki means "Universal Life Force Energy"….or in simple words "Cosmic Energy" or "Life Energy"!!
This energy is available everywhere in Abundance! It has got the property of Healing any Disease!!
In this Energy healing method we learn how to absorb Cosmic energy and Channelize it through our hands or mind to Anybody and Cure his/her problems/diseases…..starting from simple headache to Severe Cancers!!!
Most interesting thing is…it is Very Simple and can be learnt by Anyone in just "One Day workshop"(4-5hrs).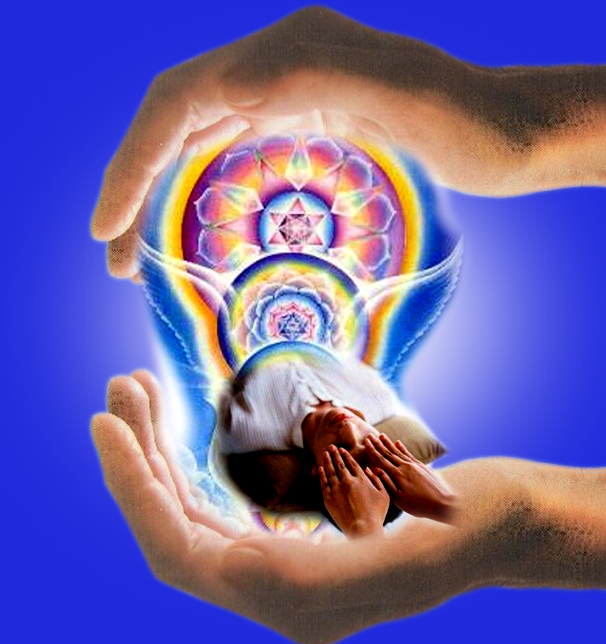 We conduct All Levels of Reiki Course i.e. Reiki 1st Degree, 2nd Degree, 3rd Degree, Mastership & Grandmastership!
Reiki treatment feels like a wonderful glowing radiance that flows through and around you. Reiki treats the whole person including body, emotions, mind and spirit creating many beneficial effects that include relaxation and feelings of peace, security and wellbeing. Thousands of people report miraculous results. Reiki is a simple, natural and safe method of spiritual healing and self-improvement that everyone can use. It has been effective in helping virtually every known illness and malady and always creates a beneficial effect. It also works in conjunction with all other medical or therapeutic techniques to relieve side effects and promote recovery. An amazingly simple technique to learn, the ability to use Reiki is not taught in the usual sense, but is transferred to the student during a Reiki class. This ability is passed on during an "attunement" given by a Reiki master and allows the student to tap into an unlimited supply of "life force energy" to improve one's health and enhance the quality of life.
Its use is not dependent on one's intellectual capacity or spiritual development and therefore is available to everyone. It has been successfully taught to thousands of people of all ages and backgrounds. While Reiki is spiritual in nature, it is not a religion. It has no dogma, and there is nothing you must believe in order to learn and use Reiki. In fact, Reiki is not dependent on belief at all and will work whether you believe in it or not. Because Reiki comes from God, many people find that using Reiki puts them more in touch with the experience of their religion rather than having only an intellectual concept of it.
While Reiki is not a religion, it is still important to live and act in a way that promotes harmony with others. Mikao Usui, the founder of the Reiki system of natural healing, recommended that one practice certain simple ethical ideals to promote peace and harmony, which are nearly universal across all cultures.
Apart from healing diseases,Reiki also Enhances Our Memory power,Communication Skills,Confidence,Positive Thinking,Immune system,Peace,Balance,Work Efficiency etc & develops us Physically,Mentally & Spiritually!!!
In simple words Reiki can Transform us completely into a Healthy,Happy,Peaceful,Balanced,Compassionate,Divine & Spiritual Human Being & helps us in Achieving our Highest Goal!!!
Lets know about Benefits of different Levels of Reiki:
Benefits of 1st Degree Reiki Course:-
It strengthens our Immune system.
2. Helps to be always Healthy.
3. Reduces Stress within Minutes.
4. Reduces all types of Pains.
5. Enhances Memory Power, Confidence Level, Communication Skills.
6. Keeps us Calm, Balanced and Peaceful.
7. Develops our Personality in all dimensions.
8. Increases our Energy level and Work Efficiency.
9. Keeps us Active.
10. Cures all our Diseases from simple Headaches to Cancers.
11. Ability to find out the Problematic Body Parts of Anybody.
12. Can Heal Any living thing(Humans,Animals & Plants).
Benefits of 2nd Degree Reiki:-
Enhanced Healing Power
2. Fast Recovery.
3. Increased Awareness.
4. Capability to Heal any Person Distantly beyond Time and Space(Distance Healing).
5. Increased psychic powers.
6. Sixth sense empowerment.
7. Capability to Heal any Desire(Desire Healing).
8. Capability to cleanse Negative Energy Powerfully.
9. Protection shielding.
10. Enhanced Love.
11. Relation Healing.
Benefits of 3rd Degree Reiki:-
Master Healer Power is given.
2. Psychic Surgery ( which can dissolve even Stones in body).
3. Ability to control Problematic Situations more Powerfully.