Meditation
Meditation:
Meditation is the Science of Awareness. We teach Very Simple techniques of Meditation which can be learnt and practised by Anyone . The term meditation refers to a broad variety of practices (much like the term sports) that includes techniques designed to promote relaxation, build internal energy or life force (qi, ki, prana, etc.) and develop compassion, love, patience, generosity and forgiveness. A particularly ambitious form of meditation aims at effortlessly sustained single-pointed concentration, single-pointed analysis, meant to enable its practitioner to enjoy an indestructible sense of well-being while engaging in any life activity.
The word meditation carries different meanings in different contexts. Meditation has been practiced since antiquity as a component of numerous religious traditions and beliefs. Meditation is often used to clear the mind and ease many health issues, such as high blood pressure, depression, and anxiety. It may be done sitting, or in an active way – for instance,Buddhist monks involve awareness in their day-to-day activities as a form of mind-training. Prayer beads or other ritual objects are commonly used during meditation in order to keep track of or remind the practitioner about some aspect of the training.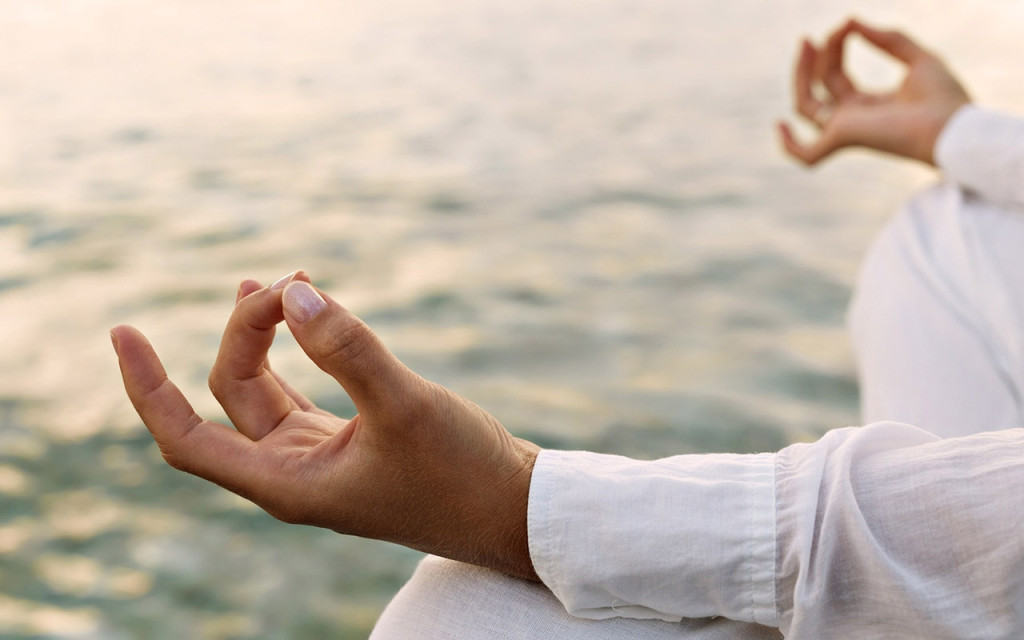 If you want to live a more fulfilled life, first you will want to know your potential, who you really are. Meditation is the route to that knowing. It is the methodology of the science of awareness.
The beauty of the inner science is that it enables whoever wants to explore and to experiment within, to do so alone. This eliminates dependence on an outer authority, the need to be affiliated with any organization and the obligation to accept a certain ideology. Once you understand the steps, you walk the walk in your own, individual way.
Many meditative techniques require one to sit still and silent. But for most of us accumulated stress in our bodymind makes that difficult. Before we can hope to access our inner powerhouse of consciousness, we need to let go of our tensions.
Meditation is Flowering.
"Remember, meditation will bring you more and more intelligence, infinite intelligence, a radial intelligence. Meditation will make you more alive and sensitive; your life will become richer.
"Look at the ascetics: their life has become almost as if it is not life. These people are not meditators. They may be masochists, torturing themselves and enjoying the torture… The mind is very cunning, it goes on doing things and rationalizing them.
"Ordinarily you are violent towards others but the mind is very cunning – it can learn non-violence, it can preach nonviolence, then it becomes violent towards itself. And the violence that you do on your own self is respected by people because they have an idea that to be an ascetic is to be religious. That is sheer nonsense. God is not an ascetic, otherwise there would be no flowers, there would be no green trees, only deserts. God is not an ascetic, otherwise there would be no song in life, no dance in life – only cemeteries and cemeteries. God is not an ascetic: God enjoys life. God is more Epicurean than you can imagine. If you think about God, think in terms of Epicurus. God is a constant search for more and more happiness, joy, ecstasy. Remember that.
"But mind is very cunning. It can rationalize paralysis as meditation; it can rationalize dullness as transcendence: it can rationalize deadness as renunciation. Watch out. Always remember that if you are moving in the right direction, you will go on flowering."
Osho
Meditation is Relaxation.
"Meditation is rest, absolute rest, a full stop to all activity – physical, mental, emotional. When you are in such a deep rest that nothing stirs in you, when all action as such ceases – as if you are fast asleep yet awake – you come to know who you are. Suddenly the window opens. It cannot be opened by effort because effort creates tension – and tension is the cause of our whole misery. Hence this is something very fundamental to be understood that meditation is not effort.
"One has to be very playful about meditation, one has to learn to enjoy it as fun. One has not to be serious about it – be serious and you miss. One has to go into it very joyously. And one has to keep aware that it is falling into deeper and deeper rest. It is not concentration, just the contrary, it is relaxation. When you are utterly relaxed, for the first time you start feeling your reality; you come face to face with your being. When you are engaged in activity you are so occupied that you cannot see yourself. Activity creates much smoke around you, it raises much dust around you; hence all activity has to be dropped, at least for a few hours per day.
"That is only so in the beginning. When you have learnt the art of being at rest you can be both active and restful together, because then you know that rest is something so inner that it cannot be disturbed by anything outer. The activity goes on at the circumference, at the center you remain restful. So it is only in the beginning that activity has to be dropped for a few hours. When one has learned the art, then there is no question: for twenty-four hours a day one can be meditative and one can continue all the activities of ordinary life.
"But remember, the key word is rest, relaxation. Never go against rest and relaxation. Arrange your life in such a way, drop all futile activity because ninety per cent is futile; it is just for killing time and remaining occupied. Do only the essential and devote your energies more and more to the inner journey. Then that miracle happens when you can remain at rest and in action together, simultaneously. That is the meeting of the sacred and the mundane, the meeting of this world and that, the meeting of materialism and spiritualism."
Osho
Meditation is Transformation.
"If you feel much resistance against meditation, it simply shows that deep down you are alert that something is going to happen which will change your whole life. You are afraid of being reborn. You have invested too much in your old habits, in the old personality, in the old identity.
"Meditation is nothing but trying to clean your being, trying to become fresh and young, trying to become more alive and more alert. If you are afraid of meditation it means you are afraid of life, you are afraid of awareness, and the resistance comes because you know that if you move into meditation, something is bound to happen. If you are not resisting at all, it may be because you don't take meditation very seriously, you don't take meditation very sincerely. Then you can play around – what is there to be afraid of?"
Osho
Meditation is Living Joyously:
"Life is purposeless. Don't be shocked. The whole idea of purpose is wrong – it comes out of greed.
"Life is a sheer joy, a playfulness, a fun, a laughter, for no purpose at all. Life is its own end, it has no other end. The moment you understand it, you have understood what meditation is all about. It is living your life joyously, playfully, totally, and with no purpose at the end, with no purpose in view, no purpose there at all. Just like small children playing on the sea beach, collecting seashells and colored stones – for what purpose?
"There is no purpose at all."
Osho
Benefits of Meditation:
Total Relaxation.
Stress Reduction.
Balancing of Body , Mind & Soul.
Health Improvement.
Development of Positive Attitude.
Personality Development.
Happiness Enhancement.
Realisation of Self.
Improvement in Relationships.
Enhancement of Love and Compassion .